Motorhome rental in Europe – prices for 2021
ATTENTION! RV rental starts at the end of June 2021!
LOW SEASON
MEDIUM SEASON
HIGH SEASON
October, November
Jun, September
July, August
SEMI-INTEGRATED MOTORHOMES 2021
ALFA, BRAVO, CHARLIE, ECHO, DELTA
115,-€
135,- €
170,- €
CAMPER VAN 2021
FOXTROT
110,-€
125,- €
160,- €
MIN TERMS OF RENT:
1 Night
3 Nights
7 Nights
PERMITTED DAILY MILEAGE, km:
300
300
Unlimited
DISCOUNTS:
2 WEEKS 5%
> Rent for 15+ days
3 WEEKS 7%
> Rent for 22+ days
LOYAL CUSTOMER up to 10%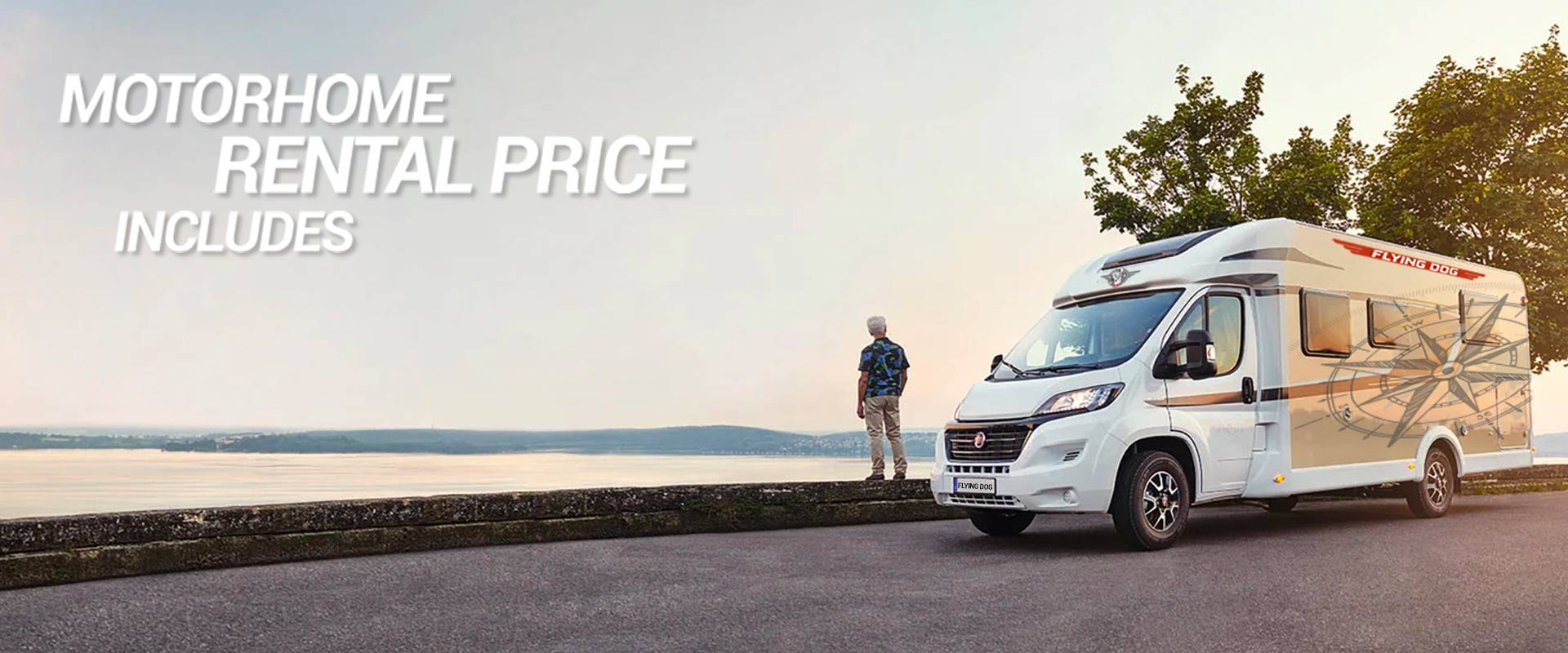 RV RENTAL PRICE FOR ONE DAY INCLUDES:
Strong motor. 5 legal seats
Highest possible vehicle and living compartment equipment
PZP + KASKO
All motorhomes have full obligatory civil insurance (PZP) and KASKO insurance
Unlimited daily mileage
We do not limit your daily mileage during high season. The world is wonderful!
24/7 support
24/7 services – assistance from our dispatchers, assistance services of the insurance company and FIAT CAMPER ASSISTANT
Toll vignette
All motorhomes have an SR electronic toll vignette
Free parking of your car
Free parking for your car in our guarded parking lot for the period of your motorhome rental
Free delivery of a motorhome to a client
In the case of renting for a period of more than 15 days – free delivery of the caravan within a radius of up to 100 km, or meeting at the nearest airports (Vienna, Brno, subject to prior agreement)
Gas. Solar awning. Cable. Hose. Supports. Bike carrier
2 gas cylinders of 11 l each with pure propane
Large solar awning and outdoor carpet
External holder for 2 bicycles
Electric extension cable 25 m with adapters
Reel with a hose for filling the water tank
Stabilizing feet for RV leveling on uneven surfaces
2 air conditioners. Efficient heating
2 air conditioners: motor air conditioner and living room air conditioner
Powerful heater TRUMA 6 E: runs on gas and electricity
Fully equipped kitchen. Fridge freezer
a complete set of high quality kitchen utensils and dishes made from ecological bamboo  (FOTO:)

Convenient roomy (167 liters) refrigerator with a separate freezer. Works on gas, 12V and 220V
Automatic coffee maker. Hair dryer
Automatic coffee maker with spare capsules
Electric hairdryer
Multimedia tablet
Tablet with games, up-to-date GPS maps, with dedicated camping apps installed, with a collection of films for kids and adults, and our educational films on all topics
Set of games for children and adults
And many other nice little things
Toilet and kitchen chemicals + napkins + toilet paper + air fresheners + sewing kit … and many other nice little things that make the hotel a 5-star …
MINIMUM RENTAL PERIOD TIME OF RECEIVING AND RETURNING THE CAR
THE MINIMUM RENTAL PERIOD
HIGH SEASON – the minimum rental period is 7 days
MEDIUM Season – 3 days, in LOW Season – 1 day
PERMITTED DAILY MILEAGE
HIGH SEASON – maximum daily mileage is unlimited
MEDIUM & LOW SEASONS – maximum daily mileage is 300 km. Exceeding the limit will be paid at a rate of 0.5 Euro/km
TIME OF THE MOTORHOME'S HANDOVER AND RETURN
The motorhome should be taken from 15:00 to 18:00 p.m., returned at 9:00-11:00 a.m. At the same time, the Lessee may, with the prior permission of the Lessor, "purchase" additional time at a rate of 1 hour = 10 Euro.
The first and the last day of rent – 50% discount (we will count as one day).
TWO WEEKS at rent for 15-21 days – 5% discount of the rental amount, or free delivery of a motorhome up to 50 km, or meeting the Client at nearby airports (prior agreement is required)
THREE WEEKS at rent for 22 and more days – 7% discount of the rental amount, or delivery of a motorhome up to 100 km, or meeting the Client
LOYAL CUSTOMER for the 1st re-lease, an additional – 2.5% discount will be provided, for the 2nd re-lease – an additional – 5% discount, for the 3rd – add. discount – 7.5%, for 4th and subsequent repetitions – 10% discount. A prerequisite for applying a loyalty discount is a minimum rental of 7 days.
CAUTION (RETURNABLE DEPOSIT)
€1000 – for citizens of Slovakia and Austria
€2000 – for citizens of other countries
Caution serves as an assurance of the possible expenses covering which cannot be covered by the RV insurance. After the consequent return of the motorhome (in time and without damages), 100% caution will be returned back to the Lessee. Caution can be paid in cash on the date of the motorhomes taking up, or beforehand on the Lessor's account. The motorhome cannot be taken by the Lessee without the returnable deposit.
Move between the countries in EU is allowed. It is forbidden to move outside EU borders.
This page is for your reference only. Detailed rental conditions are available in the General Trading Conditions on our website for your guidance and downloading.
Yours faithfully,
FLYING DOG s.r.o. crew
2021 Edition
Information related to the coronavirus COVID-19 pandemic

For Flying Dog Company, our top priority is the health and safety of our guests, employees and business partners around the world.
Based on expert recommendations, we reviewed existing safety and health practices and developed the FLYING DOG safety protocol. The new comprehensive cleaning and disinfection protocol based on SGS instructions is designed to ensure your safety and peace of mind from the moment you book your motorhome until you return it. All our motorhomes are cleaned and ready for the next ride according to our 20-step protocol.