Wohnmobil zum Verkaufen: LAIKA ECOVIP 3010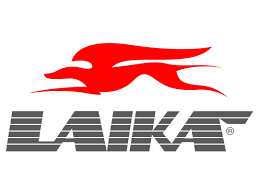 Premium Motorhome LAIKA Ecovip 3010
FLYING DOG is the official dealer of LAIKA (Italy) in Slovakia
MOTORHOME FOR SALE LAIKA Ecovip 3010 MT ON FIAT CHASSIS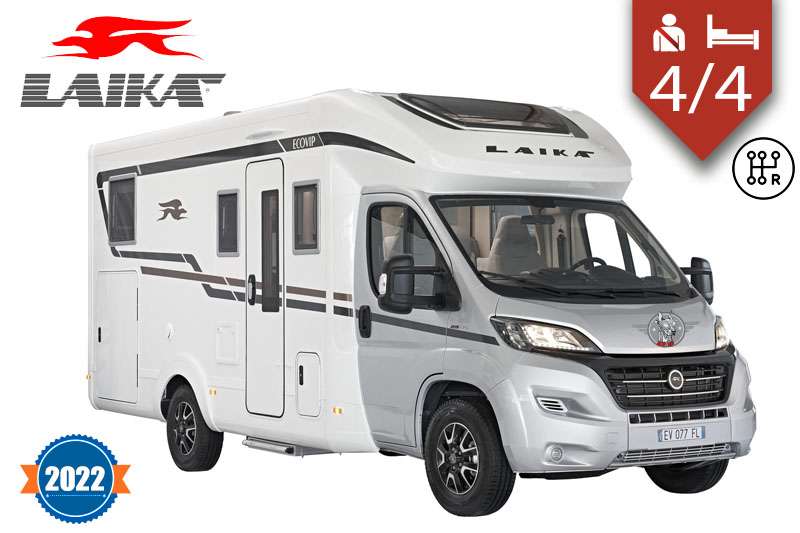 TECHNICAL DATA OF THE MOTORHOME
SIZE AND WEIGHT
Outer length / width / height, cm: 699/225/296
Internal width / height, cm: 212/205
Wheelbase mm: 3,800
Podvozok: Fiat Ducato Light
Motor Fiat 2,3 l MultiJet, 140 k, Euro 6 d tepl
Technically permissible total weight kg 3500
Chassis Paket:
Traction +, descent, electrically adjustable and heated outside mirrors, cruise control,
Preparation for car radio: DAB aerial and speakers in the driver's cab, DAB aerial included
right rear-view mirror, height-adjustable front passenger seat.
Eco Pack:
Start & Stop, smart generator, electronically controlled fuel pump, 16-inch alloy wheels, manual air conditioning in the driver's cab, steering wheel remote control
Comfort Paket:
A window in the bathroom, a wooden insert in the shower, a carpet in the booth and a rug in the floor.
Living space, Waste water solenoid valve, Rear view camera preparation, Dimmable
Lighting, Indoor sliding dimming, Remote heating control via smartphone, Digital heating control panel
Safety Paket:
Driver Assistant: Brake Assist, High and Low Beam Assist, Lane Departure Warning, Traffic Sign Recognition, Rain and Twilight Sensor, TPMS (Tire Pressure Monitoring System).
Fuel tank 90 l
INNER PART:
Heating Combi 6 E (gas and electric)
Electrically lowered bed
Kitchen version: "Grand Chef", 3-burner hob, built-in gas oven with grill
Furniture design: Pero Toscano
Wood decor: Rovere Moka
Upholstery I: leatherette "Udine"
Upholstery II: Ligúria a Adda
Folding table with telescopic leg
SLEEP AND HOUSING
Number of seats: 2 + 2
Rear double bed (L × W), cm: 205 × 140
Electric folding bed in the living room, cm: 186 × 139/109
Extra bed in the living room (optional), cm: 188 × 110/58 O
EQUIPMENT
Refrigerator, l: 140
Clean water tank, l: 100 + 20
Gray water tank, l: 100
LOW-PROFILES ECOVIP
SERIES DIFFERENCES
The low profile Ecovip combines all the features that define Laika. Excellent Italian design with modern technical solutions. With an internal height of 205 cm, it offers plenty of room for your dream trip.
CONVENIENCE
Space for LCD / LED TV screens up to 32 ″
Electric roll-out bed (optional) with reading lights and USB sockets, high quality mattress, slatted frame and fall protection net.
Seats with variable storage space in the double floor, ideal for transporting large items.
DESIGN
One-piece fiberglass front and insulated and heated connection between living space and driver's cab.
Rear wall with automotive design, LED headlights and dynamic indicators
Elegant insulated / upholstered material Laika-Iso-Deluxe.
TECHNICS
Polyurethane walls and roof structure, high insulation of walls, roofs and floors thanks to XPS expanded polystyrene, fiberglass hail-resistant roof, aluminum walls against yellowing.
Double technical floor with heated and illuminated hall with external and internal access and heat storage function.
Maxi-refrigerator for 140 or 160 liters (depending on the model, except for Ecovip L2009 / H2109) with a separate freezer and automatic selection of the energy source.
Entrance doors with hidden hinges, new "car" locks.
High quality multi-level full LED lighting system with multi-directional control and dimmability with direct and indirect light sources covering every area of ​​the living area, including entrance stairs, wardrobe, attachments, rear garage and raised floor
Duct air heater 6 kW with built-in boiler and programmable digital control panel with optimized characteristics (only with Smart Home package) with perimeter distribution in all areas of the vehicle, including the driver's cab, raised floor, tanks and rear garage
Convection heating and standard heat exchanger are available on request.
Latest generation electrical system with CI-BUS technology, cover for two service batteries built into the double floor, easily accessible digital control panel with programmable and multifunctional color LCD screen
Fully antifreeze water system: fresh and waste water tanks located on a double floor and additionally protected by an insulated and heated polyurethane jacket, easily accessible and removable (if necessary)
Pressurized water pump with expansion tank in a protected and heated room, accessible from the rear garage
Electrically operated waste water drain from the rear garage.
If you are interested in more information about this caravan, please fill out this form. Please include your model number and your questions.