Motorhome For Sale: LAIKA KOSMO EMBLEMA 509E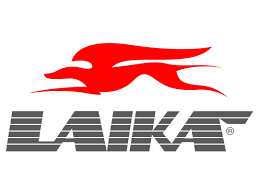 Premium motorhome for sale LAIKA KOSMO EMBLEMA 509E
FLYING DOG is the official seller of LAIKA caravans (Italy) in Slovakia
Motorhome for sale LAIKA KOSMO EMBLEMA 509E
Our LAIKA Kosmo Emblema 509E – is the most spacious and most luxurious motorhome in this model range. Automatic transmission, powerful engine, spacious and exclusive interior, luxury and reliability – this is all LAIKA.
OUR SPECIAL MODEL KOSMO EMBLEM
This model, redefined and full of zest for action, is ideal for anyone who has fallen in love with the freest form of travel.
SIGNIFICANCE OF THE SERIES
COMFORT
• Scratch- and fingerprint-resistant kitchen and table tops
• Rear beds with wooden slats, high-quality, breathable mattresses with machine-washable stretch lining
• Padded back of the bed
• Electric pull-out bed is available on request
• The bathroom door can also be used as a separation from the living area
DESIGN
• Underlay roof cover in GRP with integrated maxi roof light
• Car headlights and rear bumper for easy replacement if needed
• Aluminum skirts on the underside of the vehicle
• High quality flat frame windows with aluminum frame, blinds and mosquito net
• White glossy wall units, metal handles and high quality mechanical and closing components
• Living room with comfortable upholstery, adjustable headrests and pillows with removable lining
• Multi-level indirect lighting in the driver's cab and in the hall
• Design of windows in the kitchen and living room
TECHNIQUE
• Walls and roof highly insulated with EPS foam, glass-fiber-lined roof for protection against hail, external aluminum walls, against yellowing
• Fiberglass floor for maximum resistance to gravel and weather over time
• 6kW heating system and boiler with heat distribution and wiring throughout the interior, including the rear garage and driver's cab, programmable digital control panel (only with Smart Home Pack)
• Trivalent 140 l refrigerator with automatic energy source selection (AES)
• Electrical system with 18 A automatic charger, maintenance-free high-performance service battery 95 A, on-board control panel with LED display (only with Smart Home Pack)
• 100% LED lighting • Drinking water tank 110 l, easily accessible for cleaning and inspection, high-capacity electric submersible water pump
• Exhaust pipe with anti-odor siphon, regeneration tank with external deaeration
• WC with rotating bowl and removable cassette 18 liters (frost-resistant)
• Gas ​​space for two 10 kg gas cylinders, steel gas pipes, safety shut-off valves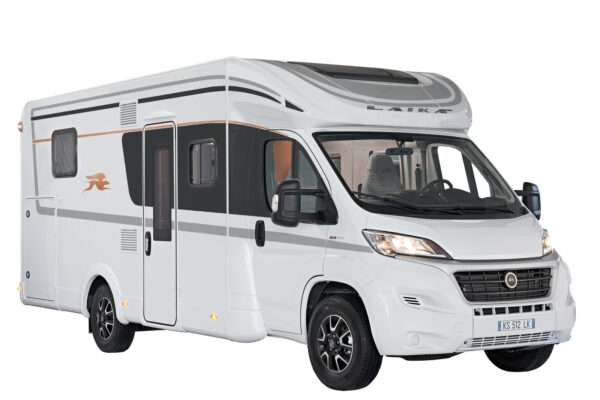 TECHNICAL DATA OF THE MOTORHOME
KOSMO EMBLEMA 509 E
CHASSIS AND ENGINE
Chassis: Fiat Ducato 35 Light
Maximum power, kW (PS): 103 (140)
Automatic transmission
Engine displacement, cm3: 2,287
Standby weight, kg: 2,993
Payload, kg: 507
Max. total weight, kg: 3,500
DIMENSIONS AND WEIGHT
Outer length / width / height, cm: 741/233/294
Inner width / height, cm: 218/213
Wheelbase, mm: 4.035
Towing weight, kg: 2,000
Type – approved seats: 5
Garage dimensions (L × W × H), cm: 109 × 218 × 121
SLEEP AND HOUSING
Number of beds: 2 + 2 + 1
Right rear bed / left rear bed (L × W), cm: 207 × 80/200 × 80
Dining table, cm: 200 × 115
Folding bed, cm: 200 × 140
INSTALLATION AND TECHNOLOGY
Fridge, l: 140
Fresh water tank, l: 90 + 20
Waste water tank, 1:90
Heating system, kW: 6
CHASSIS AND CAB
Fuel tank 75 l
Genuine leather steering wheel and gearshift knob
INSIDE
Rear double bed with ladder
Electric folding bed above the sitting area
OUT
Gas socket
UPHOLSTERY «Firenze» faux leather
ADDITIONAL PACKAGES:
Chassis package
Manual cab air conditioning, single-zone, Traction +, descent, cruise control, exterior mirrors, electrically adjustable and heated, height-adjustable front passenger seat, preparation for DAB car radio and speakers in the driver's cab, DAB antenna on the right rear-view mirror, steering wheel radio controls , passenger airbag
Security package
Steering assistant: Brake assistant, high beam and dipped beam assistant, lane departure warning, traffic sign recognition, rain and twilight sensor, TPMS – tire pressure monitoring system.
COMMON STANDARD EQUIPMENT
CHASSIS
• Fiat Ducato, 140 BHP, Turbo Diesel
Common Rail (45)
• Enlarged rear track
• 16" Alloy wheels – Light chassis
• Fix & Go Tyre repair set
• 75 l fuel tank
• Electronic Stability Control: ESC, ABS,
ASR, Hill Holder, Roll Over Mitigation,
Crosswind Assist, Trailer Stability Control
System, Post Collision Braking System
• Cruise control
• Eco-Pack with Start&Stop
• Manual air conditioning for cab
• Driver and passenger airbags
• Height adjustable steering wheel
CAB
• Central locking of cab and living area
doors with remote control
• Pleated cab blinds
• Cab carpet
• 8 '' Multimedia system, DAB radio, touch
screen, sat nav with map updates for 3
years, speakers and reversing camera
BODYWORK
• Insulation in polystyrene foam (EPS)
• GRP sub-floor
• Aluminium side skirts
• Garage with low floor, non-slip coating,
lighting, heating and rails with load hooks
that can be repositioned
• Garage with maximum payload of 150 kg
depending on configuration and actual
load in use
• Power socket in the garage
• Garage with double external access door
• Entrance with integrated step
• Courtesy handle in the entrance area
• Premium XL living space door with
centralised closure, remote control,
window, blind, storage compartment and
mosquito net
• Windows with frame, flat window pane,
blind and mosquito net
• External LED light
KITCHEN
• Scratch and fingerprint resistant kitchen
and table tops
• Indirect lighting under kitchen top
• Stainless steel sink
• Multifunctional sink cover (chopping
board and additional wall shelf)
• 3-burner stove
• Refrigerator with automatic energy
source selection (AES)
• Automatic soft-close drawers
• 230 V outlet in kitchen
• Chrome metal spice rack shelf
• Kitchen and living room window frame
covering
• Glass protection panels for kitchen walls
• 40 x 40 cm roof-light in kitchen
• Extractor hood
BATHROOM/shower
• Removable toilet cassette (antifreeze)
• Roof-light in bathroom
• Wooden foot board in shower
• Bathroom door also to be used as a
separation for the centre of the vehicle
(depending on model)
• Separate shower
• Sliding rear doors (depending on model)
• Bathroom window (9)
• Floor storage compartment in the rear
area
• 230 V outlet in bathroom
SYSTEMS
• 100% LED lighting over and under wall
units
• Adjustable reading lights complete with
USB sockets
• Gas combi heating with heat distribution
throughout the interior, including rear
garage and driver's cabin
• Heating with programmable digital control
panel
• Control panel with LED display
• Automatic 18 A battery charger
• Living area battery (95 Ah)
• USB sockets for power supply and
charging of mobile devices
• Gas compartment for two cylinders
• Internal water tank, easily accessible for
cleaning and inspection, complete with
electric immersion pump
• Insulated and heated waste water tank,
featuring safety open/ close button
• Exhaust pipes with anti-odour siphons,
recovery tank complete with external vent
INTERIOR & COMFORT
• Furniture design "Noce Italiano"
• "Como" upholstery
• Anti-condensation walls and ventilation
in the furniture for an ideal spread of the
heat
• Lounge cushions with removable lining
• Height-adjustable living room headrests
• Ergonomic table with moving top and
easy handling.
• Maxi panoramic roof-light above the
lounge (3)
• Beds with wooden slats
• High comfort mattresses with machine
washable stretch lining
• Manually height adjustable rear centre
bed (depending on model)
• Padded and illuminated rear headboard
• Panels and padded storage pockets
dedicated to the sleeping area
• Wardrobes with integrated lighting, to be
switched on independently
• TV compartment in living room for LCD/
LED screens up to 32"
• Shoe compartment in the entrance area
Standard settings for:
• TV preparation with power supply and
aerial cable
• Set-up for coupling
• Set-up for satellite aerial
If you are interested in more information about this motorhome, fill out this form. Please provide the model number and your questions.