RENT YOUR MOTORHOME IN EUROPE - MOTORHOME RENTAL "FLYING DOG"
Dear Friend!
Since you are on our website – we conclude that you are a romantic who loves adventure, travelling and … the exceptional comfort, provided by the newest made-in-German motorhomes.
Please, consider the option of renting one of our newest (2022-2023 year of production) motorhomes in our Bratislava office.
What are the advantages you get with us?
The office of Flying Dog s.r.o. is easy to reach: our motorhome rental located in Bratislava, just on the border between Austria, Slovakia and Hungary. We speak English and German. All documentation is ready to go and will be signed in English for your comfort.
Features of our RV's can be evaluated in person during our first meeting. Our company offers for rent only new motorhomes from the German manufacturers LMC and CARADO, whose dealer we are.
There is a luxurious interior, spacious rooms, comfortable kitchen with full equipment. Our motorhomes come in the maximal configuration: with automatic transmission, safety systems (ABS, ESP, ASR), rain and light sensors, rear-view cameras and GPS. At the same time, a powerful 160hp engine makes it easy to travel in the highlands. Solar awning and the air-conditioned living room will protect your family from the heat on a sunny day.
Motorhomes from Flying Dog are equipped with cutlery and crockery, household chemicals and hygiene products.
– Morning cup of aromatic coffee? – Here's a coffee maker!
– A glass of wine in the summer twilight? – Please, here are wine glasses, and here are romantic candles!
And all of the above is already included in the Motorhome's rental price…
Talking about the price. There are no hidden services, lump-sum or other payments. We do not have any surcharges for cleaning and car washing. You only pay the cost of rent according to our Price-List!
The RV's rental price in a High Season also includes unlimited mileage, so – no extra charges for exceeding the standard 300 km/day.
Moreover, when renting a motorhome for a period exceeding 14 days, we can deliver it to you free of charge within a radius of 100 km.
We work 24 hours a day, so you can receive and hand over your motorhome in Bratislava any convenient to your time.
During all your rental period the motorhome will be insured against all risks under the KASKO program throughout Europe.
Flying Dog s.r.o. – it is not only the rental of a luxury RV but also a wide range of related services, as well as the rental of other camping equipment: from bicycles to electric grills.
In the end, it's neither our fault nor the weakness, that we are substantially better than our competitors, isn't it?
Yours sincerely,
Flying Dog Crew
Your reliable Motorhome rental (Bratislava)
MOTORHOME RENTAL AND SALE
Only new Motorhomes from 2022-2023!
OUTDOOR EQUIPMENT AND SERVICES
From the dish to the bike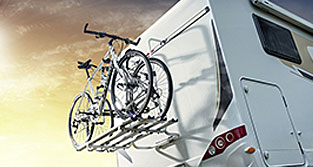 Everything you need on the road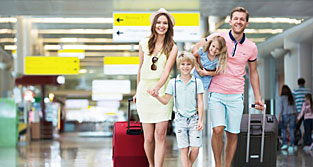 Everything for our Customers
If you have not decided yet where to go with the motorhome, let yourself be inspired by our collection of the most popular destinations.
Here you will find the news about Flying Dog, but also interesting notes from our own Motorhome routes across Europe as well as other important travel information.
Reference about Motorhome Rental "Flying Dog" s.r.o.