Do you want to buy a motorhome and are not sure whether to buy a new or used vehicle? Read the decision-making guide from the experts at Flying Dog s.r.o..
Should I buy a motorhome new or used?
This guide from Flying Dog s.r.o. will help you make your decision
Should I buy a new or used motorhome? Buying a motorhome should be well thought out as it is a major investment. We explain what is important.
Our expert from Flying Dog s.r.o. Yuriy Oblog has put together a useful guide to help you make your decision.
List your needs before making a purchasing decision.
What do I want? What do I need?
What budget do you have for buying a motorhome?

How often do you want to travel? Regularly or only two or three times a year?

Will you be mainly travelling or spending most of your time camping?

Will you be travelling alone, as a couple or as a family?

Will pets be travelling with you?

What are your furniture requirements?

What would you not (cannot) do without?

What suits you?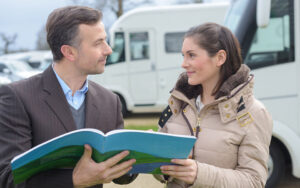 Before buying a motorhome, it is highly advisable to rent and test drive it first.
"Before deciding to buy a motorhome, newcomers and those who are interested should always rent a vehicle first. You won't be able to rent a new motorhome from a dealer, of course, but you will be able to rent a motorhome of the same class, or very similar. If travelling in a motorhome is not to your liking, you will lose nothing but the rental," advises Yuriy.
– "To make buying a motorhome worthwhile, you need to spend at least six weeks a year on the road with it," Yuriy further advises.
– "In addition, incidental costs such as insurance and storage need to be taken into account. But, of course, there are some travellers for whom profitability doesn't matter; for them it's both a hobby and a lifelong dream."
New motorhomes for every budget – how much should a motorhome cost?
The decision to buy a new or used motorhome depends largely on the budget available. There is a suitable offer for every need and every budget.
Motorhomes can be a long-term investment. They are designed for long-term use and often last for decades. In addition, their value is quite stable and they still fetch good money when sold even in used condition.
Tips for buying a motorhome
1. Tips for choosing the right type of motorhome
What type of motorhome is right for you? (Fully integrated, partially integrated, alcove, etc).

Make sure you have the maximum load capacity, 700-800kg is recommended for families.

Before buying, weigh the vehicle and compare with the paperwork.

Does it have a small rear overhang to avoid overloading the rear axle?

Sufficient engine power creates safety reserves

Automatic or manual transmission? Which suits you better?

What safety features does the chassis have (ABS, ASR, ESP, tempomat, lane keeping, etc.)?
Expert tip: Motorhomes up to 6 m long and up to 3.5 tonnes can save on ferry fares and motorway tolls.
2. Tips for choosing the best motorhome interior design
A body battery (on-board battery) of sufficient capacity for autonomous operation

LED lighting for energy saving

The height in the alcove and above the beds in general should be at least 60 cm.

Double beds should be at least 190 x 135 cm.

Large skylights let in plenty of light and provide a comfortable indoor climate.

Storage compartment flaps that open from the outside make loading easier.

Rear garages should be accessible via 2 storage doors (left and right).
3. Tips for choosing additional equipment and accessories for the motorhome
If possible, have an awning installed at the factory

Second Air conditioning for leaving compartmen

Fresh and waste water tank of as large a volume as possible

Insulated or heated waste water tank (if you want to camp in winter too)

Good mattresses for more comfort while sleeping

Isofix child seat mounts (if you want to bring small children with you)

Bike rack

Mosquito nets for front and back doors

Solar system, SAT system,

A secret compartment, a safe, possibly more than one
Expert tip: Always consider the GVW mass.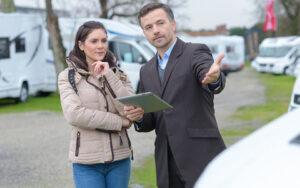 When is the best time to buy a used motorhome?
The best time to buy a used motorhome is in autumn and spring. It is in autumn that rented motorhomes are returned to the dealer and then sold at bargain prices.  Some individuals also part with their motorhomes at the end of the holiday season. Well, in the spring – you buy the motorhome just before the season starts.
Should you buy a motorhome from a dealer or a private individual?
Most people today wonder where it is better to buy a used motorhome – from a private individual or from a dealer.
The first way is usually the internet. One can find many used and new motorhomes from individuals or dealers on reputed online portals. By making a checklist of questions, you will already be able to rule out several cars.
Expert tip: Beware of offers that are too tempting. No-one gives anything away for free and there is bound to be a catch. Especially if the seller asks for money up front, you should be wary. In many cases, you have fallen into the hands of a dodgy seller and should break off negotiations. 
<< Is it safe to buy a caravan from a car rental company? – expert opinion
Why buy a used motorhome from a dealer?
It's worth going to the dealer and looking at a few used models on the spot. The advantage is obvious.
The advantages of buying a used motorhome from a dealer:
You get professional advice

You see what you get for your money on the spot

You can take a close look at the motorhome

You can take a test drive

You can buy a motorhome without VAT
Expert tip: You receive a legal warranty from the dealer. This means that commercial sellers can be held liable for defects in the material and construction of the motorhome for two years. This warranty can be reduced by contract. The burden of proof is on the dealer for the first six months. After that, the buyer must prove that the defect already existed at the time of purchase. Of course, the warranty does not cover wear parts such as brake pads.
Tips for buying a used motorhome from a private individual
When selling privately, it is often indeed possible to find better deals. However, you should bear in mind that you yourself are responsible for material defects and have no way of returning the vehicle. Therefore, inspect the car carefully during the inspection to avoid unpleasant surprises later. If this is your first purchase of a used motorhome, seek advice from friends or acquaintances.
Checklist for buying a used motorhome
Determine the gross vehicle weight – study the motorhome paperwork before buying

Check the interior is airtight – are there no foreign odours?

Have the prescribed annual leak checks been carried out?

How long is the warranty on body tightness still valid? Some motorhome manufacturers give a warranty of up to 12 years on body tightness, provided the inspection has been carried out without any defects.

Check the gas box

Check the on-board batteries

Check the underbody for rotten wood or warping

Check the available space – how many adults and children will fit?

 

Check the Exterior condition: side walls, side windows, bumpers (presence of scratches, dents).

Check the Interior condition: Built-in furniture, surfaces of sofas and seats, including driver's seats, flooring, ceilings, etc. (Scratches, fabric wear, dirt, holes)

Check the Condition of the built-in equipment: refrigerator, gas stove, heater, boiler, water mixers, kitchen sink, toilet, shower, etc.

Check the water system

Check engine, clutch, service book and brakes

Check tyres (age, weight, tread).

Has the caravan's gas equipment been checked?

Is the damage known to have been caused by an accident?

Damage from hail damage?

Is there a current factory warranty or an extended dealer warranty?

Ask for a full service booklet and repair invoices, have all services been carried out?